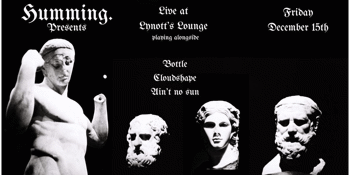 Humming Live at Lynott's Lounge
Bottle, Cloudshape & Ain't No Sun
Lynott's Lounge (Northbridge, WA)
Friday, 15 December 2023 7:30 pm
Humming, the emerging alternative rock band from Perth, is set to return to the stage at Lynott's Lounge on December 15th, with a powerful and dynamic performance that promises to be an unforgettable experience. As they are set to re-enter the live music circuit in Perth, Humming has been steadily gaining attention for their unique blend of soft reverb tones and intense heavy-hitting distortion. Along with special guests; "Bottle, "Cloudshape", and "Aint No Sun", Audiences can expect an evening filled with immersive soundscapes and energetic rhythms that transcend traditional genre boundaries.

Adding to the excitement, the band has recently dropped a new single, "Fade Away," marking their return with a mesmerizing track that showcases their evocative musical style. The song encapsulates the essence of Humming's sonic exploration, creating a compelling atmosphere that resonates with listeners.

Their new single, "Fade Away", is now available on all major streaming platforms, offering a glimpse into the band's evolving musical direction, with many more exciting things to come.