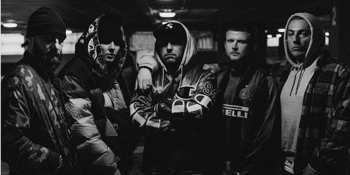 Breaking Wheel Productions, Your Mate Bookings and The Syndicate Touring
CANCELLED - Desolated (UK), Sedative, Shattered and Closed Off!
Sedative, Shattered and Closed Off!
Lynott's Lounge (Northbridge, WA)
Sunday, 14 January 2024 7:30 pm
Desolated, a modern beatdown band hailing from the UK, delivers an unapologetically aggressive and bleak sound. With their relentless assault of crushing riffs, they leave no room for compromise.

Signed under MLVLTD Records, Desolated's unyielding music resonates with a fierce intensity, tapping into the depths of human struggle and turmoil. Brace yourself for an unruly force that pushes the boundaries of aggression.

Having conquered stages across the globe, Desolated has earned a reputation as an electrifying live act, leaving audiences craving more of their unbridled energy.

With a string of previous records that have garnered critical acclaim, their discography stands as a testament to their growth and influence within the hardcore community. With each release, they continue to solidify their position as a dominating force in modern beatdown aggression.