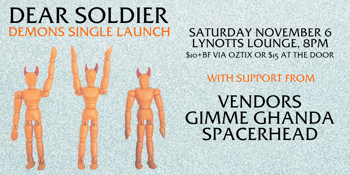 Dear Soldier "Demons" Single Launch
Vendors, Gimme Ghanda & Spacerhead
Lynott's Lounge (Northbridge, WA)
Saturday, 6 November 2021 8:00 pm
Drawing on influences from 2000's rock, emo & pop punk is Perth band Dear Soldier. Formed in 2016 by frontman Rohan Martin and joined by prominent Perth musicians Brandon Richards & Brad Forbes.
The tight-knit trio released their debut EP Stories in 2017 which quickly gained them a reputation for their energetic performances & relatable lyrics. Following up with singles "Vanilla" and "All I Am" the band supported The Faim for the Perth leg of their world tour before locking themselves away to write and record their next releases.
Dear Soldier are set to release a number of singles in the next 12 months, starting with their 2000's nostalgia filled song "Demons" to be released on October 15th! This is to be supported by their first headline show in over 4 years on November 6 at Lynotts Lounge with support from Vendors, Gimme Ghanda and Spacerhead.